Hi all, I'm Sonia.

At this time my role is the "account manger" of the group, because I mainly maintain relationships with our client. Finding a business disposed to commission its online campaign to a group of students was very hard. A lot of people, who I have asked to participate at Google Challenge as our business, were afraid to have to pay for the campaign. Another part of these, didn't trust in online campaign and said me "I am not interested".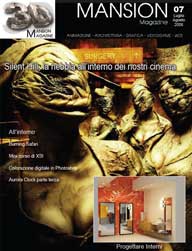 After some days of searches I have found the business.
I'm talking about
"3D Mansion"
, a webzine of computer graphics created by Italian experts, directed by Roberto Lombardo. 3D Mansion's site has been re-opened with a new look at the half of febbruary 2008. Actually there are about 3,000 visits monthly.Roberto Lombardo was lead Artist 3d department at
7Th Sense s.r.l
(for example, he was involved in the developement of
"The fish file"
, a game for GameBoy Advance published by MC2-Microïds). He wrote several tutorial and articles for magazine like "Io programmo", "Game Republic" e "The Games Machine". Now he spends a lot of time in managing his webzine, and collaborates with many societies which operate in computer graphics field .
After Roberto's agreement, we have made an analysis of site quality, including Usability and accessibility. Then we have sent the report to Roberto, who have charged his webmaster of doing some modifications.
One week ago, we have met Roberto to arrange the most important goals of the Adwords campaign. Now we are writing the Pre-campaign document and we are analyzing the web log file of 3D Mansion's site to understand user's behaviours.
I hope we'll make a good work,